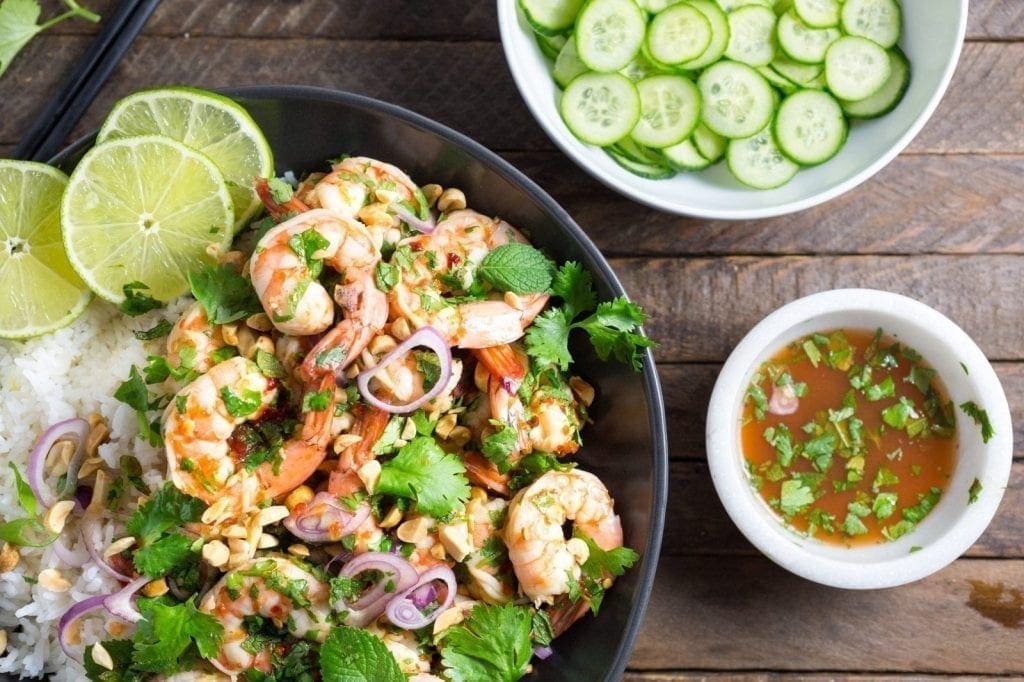 A simple, healthy Thai shrimp salad with an authentic sour-savory-spicy-sweet combination of fresh lime juice, fish sauce and chili paste, showered with fresh herbs and crunchy roasted peanuts.
Summer is almost done but we are officially in the middle of a heat wave. You know those shots in movies of a long, empty road, heat lines shimmering up from the pavement? Maybe a tumbleweed blows by, lazy and misshapen? That's our living room right now. In this case the "tumbleweed" is Arya, our rescue dog who, for a pup who lived her first year on the streets of West Virginia, is hilariously particular about the range of temperatures she finds acceptable. 70º – 75ºF is fine, but a few degrees in either direction and get ready for dramatic sighs and woeful glances.
I hear you, puppy. I'm hot too.
Too Hot to Cook?
These are the types of days when even the thought of turning the oven on seems ludicrous. I picture it like a cartoon, my hand melting before I can even reach the dial. That's when you need a recipe like this. It requires only enough heat to boil a pot of water.
Once the water boils, turn off the flame and poach the shrimp for about a minute. That's it for the hot part.
Once they're just cooked through, plunge the lovely pink curls into a piquant Thai dressing and shower the whole thing with herbs and crunchy peanuts. Serve it on its own as an appetizer, or over rice or rice noodles, for a delicious, healthy dinner ready in minutes. There's not even any oil in the dressing so it's one of those rare low calorie dishes that has absolutely no sacrifice in taste.
Spicy flavors
One of my favorite aspects of Thai cooking is that it really embraces bold flavors. Sour-sweet-salty-spicy, it's all there in just about every dish. It also tend to be naturally light (unless you're using a peanut sauce, which … yum).
This is not the kind of American, Applebee's version of a Asian Thai Shrimp Salad (not denigrating, I just don't want you to be disappointed if that's what you're looking for. We also don't have a magician going around from table to table doing tricks. At least not every day.) This version is closer to a traditional dish called Pla Goong, though an authentic version would use lemongrass and Thai bird chilis. I didn't have either, so I substituted lime zest and my favorite chili-garlic paste.
The flavor is almost like a ceviche. The sour lime is the dominant taste, with the salt from the fish sauce and spice from the chilis coming right after. It's balanced with a little sugar, but you should taste it before you add the shrimp and adjust it how you like.
I'm a little bit of a spice wimp, so for me two tablespoons of the chili paste was plenty. If you like it extra spicy, add more. Or mince a hot chili pepper and add it to the mix.
Extra Sauce?
Speaking of ceviche, since this dressing is acidic enough to continue to "cook" the shrimp as it sits. If you make it in advance or have leftovers, pour the extra dressing into a separate bowl and serve it on the side. This will keep the shrimp from becoming rubbery, which can happen if they stay submerged for hours.
Nerd Tips
Check out our Asian Pantry Basics page for ingredient definitions and links on where to buy them.
Adding shredded carrots or cabbage would be inauthentic, but totally delicious.
We served it with dead simple Quick Pickled Cucumbers on the side.
Mint and cilantro are traditionally used but basil, especially Thai basil if you can find it, would be a great addition or substitute for either herb.
If you make this salad in advance, don't let the shrimp sit in the sauce for hours (as I mentioned above), but also save some fresh herbs to sprinkle on top just before serving.
Don't have shallots? Use red onion or even a few scallions instead.
The Recipe
Spicy Thai Shrimp Salad
A simple, healthy Thai shrimp salad with an authentic sour-savory-spicy-sweet combination of fresh lime juice, fish sauce and chili paste, showered with fresh herbs and crunchy roasted peanuts.
Author:
Emily Clifton - Nerds with Knives
Ingredients
5 tablespoons lime juice (from about 3 limes)
2 teaspoons lime zest, finely grated
3 tablespoons fish sauce
1 ½ tablespoons sugar
About 1 - 2 tablespoons sambal, (or use chili-garlic paste or Sriracha)
1 pound large shrimp, shelled and de-veined
A large shallot, thinly sliced
1 cup cilantro, leaves and tender stems (or basil), roughly chopped
½ cup mint leaves, roughly chopped
½ cup roasted, unsalted peanuts, roughly chopped
Jasmine rice or rice noodles, for serving
Instructions
Bring a large pot of salted water to a boil.
In a large bowl, combine lime juice, lime zest, fish sauce, sugar, and chili paste. Taste, and adjust with any of the ingredients. It should taste quite sour, but also a little salty, spicy and sweet.
Turn heat off and poach the shrimp in the water until just cooked through, 2-3 minutes. Be careful not to overcook. Drain well.
Add the warm shrimp to the sauce and toss well. Add the shallot, cilantro and mint leaves. Toss, and transfer to a serving bowl. Scatter over the peanuts and garnish with a few more herbs. Serve immediately with hot rice or rice noodles.