Our new cookbook is out now — and its focus is one of our favorite ingredients: booze! We show you how to use the cooking properties of beer, wine, bourbon and more to make your dishes pop!
As the weather turns chilly, we want a cocktail that will warm our cockles, and this Spiced Rosemary Old Fashioned is the perfect drink to take us straight through the holiday season. We took Heritage Distilling's Elk Rider Rye and mixed it with a syrup flavored with maple, cinnamon, star anise, black pepper and rosemary. It makes you feel like you're sitting next to a roaring Yuletide fire, even if it's still October.
A Very Spirited Advent Calendar
Tired of the same old miserly chocolate slabs in your advent calendar this year? Don't worry, our pals at Heritage Distilling have you covered. If there's one thing we know how to do, it's drink – so we couldn't be happier to try out their 2018 Spirits Advent Calendar, with enough mini bottles of bourbon (or other spirits) to make it through to Christmas Eve.
We used the spicy, peppery Elk Rider Rye in our cocktail, but it would be equally good with Elk Rider Bourbon. You also get to try our other favorite, the Brown Sugar Bourbon, which we love on the rocks (or in our version of a Whisky Sour). Look for that recipe, and other cocktail suggestions at the bottom of this post. 
Our simple syrup is packed with the flavors of rosemary, cinnamon, star anise, pepper and maple. This sweet, herbal infusion pairs perfectly with a smooth bourbon or rye, and just a dash of citrus in the form of orange bitters. 
The Christmas Advent Tradition
We have a bit of a global audience now (shout out to my Mum, in England, and my mum's friend, also in England, and a very nice gentleman in Poland who wrote us a lovely email a while back which we're still struggling to translate), so I think I can safely make reference to one of my British childhood mainstays: Blue Peter. Blue Peter, for anyone not in the club, is a very long running children's magazine program on the BBC which every week contains segments on fun activities, cool information on science and nature, and how to make brilliant things from items you might have laying around the house.
Every year, without fail, one of those things was an advent crown. It was fashioned from coat hangers, tinsel and precariously-balanced candles, one to light every Sunday in December to count down the days until Christmas, and the mere presence of a Blue Peter advent crown in your house come Yuletide was enough to send your insurance rates soaring. It looked like this:
Kids who scoffed at manual labor or who simply weren't allowed near the sharp scissors quickly upgraded to store-bought chocolate-based calendars. You've probably got one in your house right now, ready to go, admit it.  I've nothing against chocolate — quite the reverse — but the appeal in tearing off a little tab every day to find the same tiny sweet sliver, and perhaps a nice picture of a fir tree in a snowscape, does tend to pall halfway through the month.
A Better Way?
But what if there was a better way? An advent calendar with something more of a grown-up reward for tearing off the little flaps? Something a little more – may I say "spirited"? (ho ho) WELL NOW THERE IS. We have our friends at Heritage Distilling to thank for pointing us toward their 2018 Spirits Advent Calendar. No mean sliver of chocolate here – behind each daily door is a 50ml bottle of one of their excellent spirits.
In most locations they ship to, you should expect to get a selection of bourbons, ryes, vodkas (some flavored) and gins. If you live in New York state, like us, you'll get a great selection of their bourbons and ryes. Either way, there's enough inspiration to put together a new cocktail every day of the holidays!
And what can you make with their spirits? Well, Heritage has a great selection of suggested cocktails over at their site. While you're there, did we mention that we have a special discount code of $10 off the price of every calendar you order? Use code NERDS10 (that's NERDS followed by the number 10) when you checkout.
But we also have a drink for you! We're calling this a Spiced Rosemary Old Fashioned.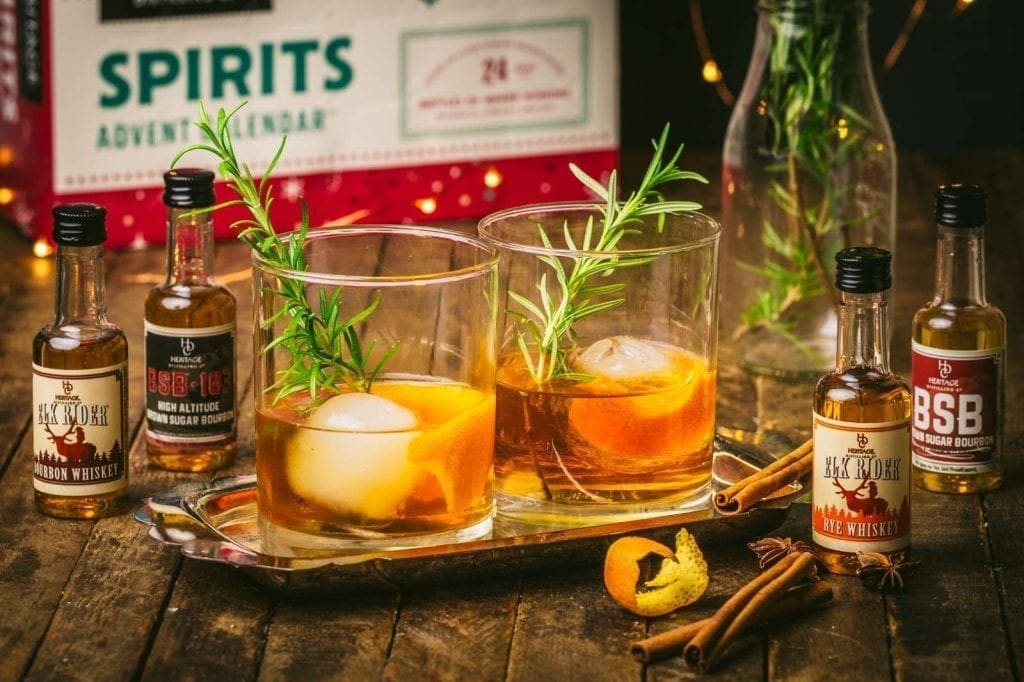 Along with the rosemary old fashioned, we also have a selection of past whisky cocktails for your holiday drinking pleasure.
Other Whisky Cocktails
The Monarch! Our favorite way to drink Brown Sugar Bourbon. Add thyme, lemon, elderflower liqueur and an egg white and you have an elegant and supremely sippable drink.
The Beacon Mule! Like a regular mule, but with bourbon, and without all the silly bother of the copper mugs. (Yes, some people MAY call it a Kentucky Mule. We are not those people.)
Rosemary, Baby! A marriage of bourbon and aperol infused with rosemary and grapefruit. Make it at Hallowe'en because of the name, keep making it through the rest of the winter because the world is a scary place.
Cranberry Sauce Whisky Cocktail – we never did think up a clever name for this. Maybe you can? It does what it says on the tin. Helps you get through Thanksgiving with your sanity mostly intact.
Vanilla Old Fashioned – warms your cockles when your cockles needs warming. Nuff said.
The Recipe
Spiced Rosemary Old-Fashioned
Author:
Emily Clifton, Nerds with Knives
Ingredients
Spiced Rosemary Syrup:
1 cup water
½ cup granulated sugar
½ cup maple syrup
2 rosemary sprigs (about 3-inch long)
2 cinnamon sticks
2 star anise pods
1 teaspoon black peppercorns
To make one cocktail:
2 oz Heritage Rye Whiskey
½ oz Spiced Rosemary Syrup
2 dashes orange bitters
1 strip orange peel
Instructions
Make the syrup:
Add all the syrup ingredients to a small saucepan set over medium heat. Bring to a simmer and stir until the sugar has dissolved, about 2 minutes. Turn off the heat and allow syrup to cool completely. Once cool, strain and transfer to an airtight container. Syrup will last in the refrigerator for up to a month.
To make one cocktail:
Add the whiskey, spiced rosemary syrup, and bitters to a rocks glass. Add ice and stir for about 30 seconds until the drink is fully chilled. Garnish with a rosemary sprig and an orange peel.