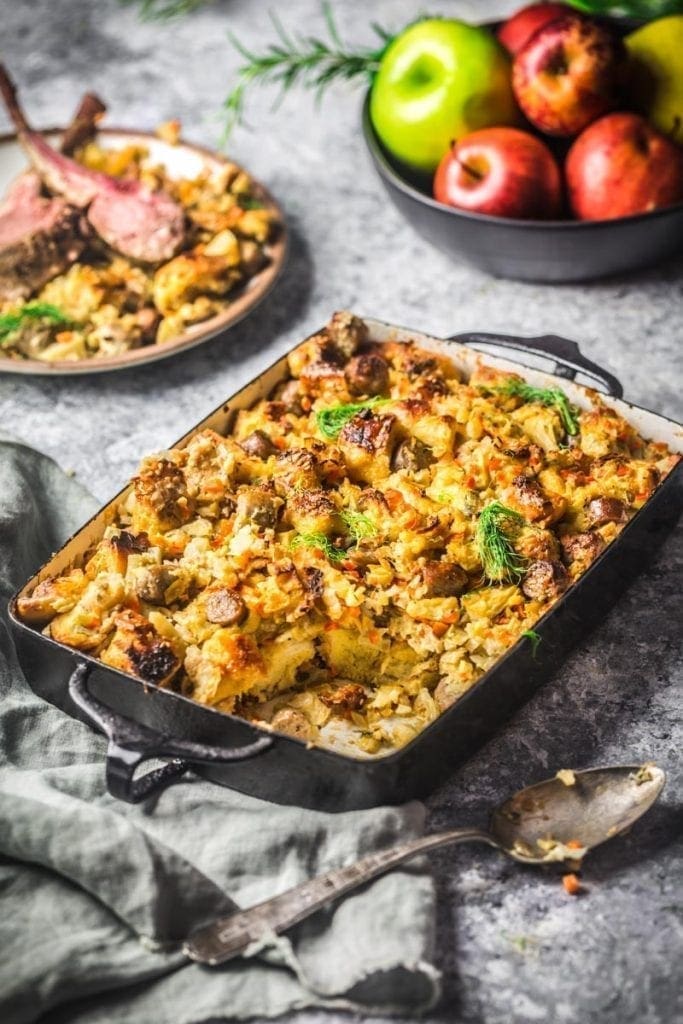 Our Stuffing with Apples, Sausage and Fennel is so good, we make it for (our friends and family demand it for) Thanksgiving every year. Like a savory bread pudding, it's moist and flavorful in the middle, with crispy brown sides and top. The flavor combination of rich breakfast sausages, sweet apples and fennel make this the Thanksgiving side dish we just can't do without. 
Yes, we call this Thanksgiving "stuffing", but several years ago we realized that actually stuffing a turkey is a losing battle. First, it causes the turkey to take longer to cook. This means the white meat will definitely dry out before the stuffing reaches a safe temperature. Not only that, but all the delicious drippings that we want to go into the gravy get soaked up by the bread (which just gets soggy). But don't fret, you lovely Nerdlings, we'll show you how to make stuffing so moist and flavor-packed, it doesn't even need gravy. (You should drizzle gravy on the stuffing anyway because gravy is delicious and you deserve it.) 
Stuffing, but not stuffed
Some people would call this a "dressing" (stuffing cooked on the side). To be honest, we've found that many dressing recipes end up rather dry. They just don't have the lovely, soft texture and crispy edges that make good stuffing so irresistible. 
So what dish is soft and custardy on the inside and crisp on top? Don't freak out, we're not testing you! (Writes a note in a little book while smiling and nodding). That's right, bread pudding! Why not use the same technique and make it savory instead of sweet? It's called a strata, and let us tell you, it works.
While this is our must-have side dish for our Thanksgiving turkey, it goes equally well with roast beef, pork or lamb chops as a Christmas dinner. In fact, it's so delicious, it really doesn't require a holiday at all.
Like just about everything we make for dinner parties, this stuffing can be made and assembled up to a full day ahead and then popped in the oven less than an hour before mealtime. Seriously, just the thought of trying to make a holiday dinner, from start to finish, all in one day, is a recipe for an anxiety attack. We take every opportunity to do as much ahead of time as possible (We always make ahead our Ultimate Turkey Stock, Make-Ahead Gravy with Apple Brandy, and Brown Sugar and Mustard Glazed Acorn Squash).
Stuffing Preparation
Like most holiday recipes, making this dish starts with chopping a whole bunch of vegetables. Onions, leeks, carrots, celery and fennel all get finely chopped. The size is less important than cutting everything about the same size, so that they'll cook evenly.
Make Ahead Tip: To make life even easier, you can chop the vegetables a day ahead and store them in a sealable bag in the refrigerator. Wait to chop the apples, though, since they will discolor quickly. It's going to look like a lot of vegetables, but they will cook down and the vegetables help keep the stuffing moist.
First step: dry the bread
Cut the bread into 1-inch cubes, lay them out on a sheet tray and bake in a low (200ºF) oven until the bread is very dry but not brown. Make Ahead Tip: the bread can be dried up to 2 days ahead and stored in an airtight container at room temperature. PS do NOT forget that the bread is in the oven! (We have, on occasion, forgotten that the bread is in the oven, and have destroyed it while heating the oven for other purposes.)
Second step: cook the sausage and vegetables
Once you're ready to cook, set a large (at least 12-inch) skillet on medium heat and add the breakfast sausages. You can substitute another variety of sausage, though we love the sage and nutmeg seasoning found in most breakfast sausage. Cook the links until they turn golden brown and are just cooked through. Remove them to a plate, leaving the fat in the pan. Add the chopped vegetables, season them with salt and pepper, and cook, stirring often. They should become soft and tender, but not brown, which will take about 15 to 20 minutes.
Once the vegetables are mostly soft, add the garlic, herbs and apples and cook for another 7 to 10 minutes, until the apples are tender. Then remove all the vegetables from the heat and set them aside to cool while you make the custard. Make Ahead Tip: the cooked vegetables can be made up to a day ahead and refrigerated.

Third step: Add the liquids
In your largest mixing bowl, whisk together the eggs, half-and-half and 2 cups of chicken stock. Add the dried bread and toss them into the custard. Cut the reserved sausages into 1/4-inch pieces and add them to the bowl, along with the cooled vegetables. Using a large spoon or clean hands, toss everything together until it's all mixed. The bread should soak up most of the custard (a little liquid in the bottom of the bowl is okay). If the bread still feels a little dry, add more stock as needed, until the bread is well saturated.
Baking your Stuffing
Transfer the stuffing to a buttered baking dish. Dot the top with butter. (Even better, if you have a turkey cooking in the oven, drizzle 2 tablespoons of its fat over the top). Cover the dish with foil. You can refrigerate it until you're ready to cook (up to 24 hours) or bake immediately. Cook it for 30 minutes covered, then uncover and bake until the top is browned, 15 to 20 minutes longer.
There. Stuffing but not stuffing. And you didn't even have to call the Butterball Hotline.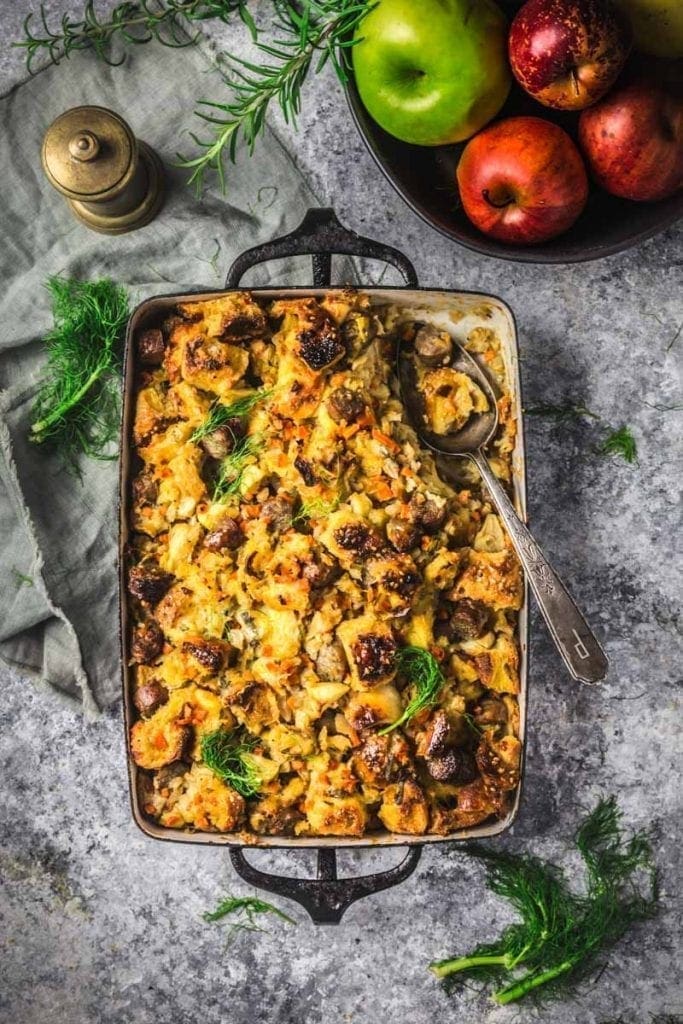 The Recipe
Stuffing with Apples, Sausage and Fennel
Author:
Emily Clifton, Nerds with Knives
Recipe type:
Side dish, Holiday
Ingredients
1 pound crusty French, Brioche or Challah bread (not sourdough)
24 oz breakfast sausage links, defrosted if frozen
1½ cups finely chopped yellow onion (2 medium onions)
1½ cups thinly sliced leeks, white and pale green parts only, rinsed well (about 2 large leeks)
About a cup finely chopped fennel (about 1 medium bulb), fronds reserved
½ cup finely chopped carrots (2 medium carrots)
½ cup finely chopped celery (2 sticks)
1½ teaspoons kosher salt, plus more to taste
½ teaspoon freshly cracked black pepper
4 medium garlic cloves, minced
2 Granny Smith apples, peeled, cored and finely chopped
About 2 teaspoons minced fresh thyme leaves (or ½ teaspoon dried)
About 2 teaspoons minced fresh rosemary
12 large sage leaves, chopped
6 large eggs
1 cup cream or half and half
2 cups homemade or low sodium chicken or turkey stock, plus more as needed
2 tablespoons unsalted butter (or drippings from roast turkey)
Instructions
Preheat the oven to 200°F and place a rack in the middle. Cut the bread into 1-inch cubes and place on a baking tray in a single layer. Bake for 15-20 minutes, turning once, until bread is dry, but not brown (you can also air-dry bread by leaving it out for up to 24 hours). Remove bread, set aside and increase oven temperature to 350°F.
Preheat a large, heavy skillet on medium heat and add sausages. Cook until brown and just cooked through. Remove the sausages to a plate and set aside. When cool enough to handle, slice links into ¼-inch pieces.
Add the onions, leeks, fennel, carrots, celery, salt and pepper to the pan of sausage fat, and cook, stirring occasionally, until vegetables are soft but not brown, about 15 to 20 minutes. Add garlic, thyme, rosemary, sage and apples and sauté 7 minutes more. Remove from heat and allow to cool for 10 minutes.
Lightly beat the eggs in a large mixing bowl and stir in cream and 1 cup of chicken stock.
Add the sliced sausage, sautéed vegetables and bread cubes and toss until the bread starts to soak up the liquid. It may take awhile for the bread to fully absorb the liquid so let it sit for 10 or 15 minutes, check it, and add more stock until the bread is very saturated but not swimming in liquid. Transfer the stuffing to a greased 13x9-inch baking dish (or a 12-inch cast iron pan).
Dot the top with butter (or if you have a turkey in the oven, drizzle 2 tablespoons of the fat over the top). Cover with foil and bake for 30 minutes. Uncover and bake until hot, and the top is browned, about 15 to 20 minutes longer.
Notes
Several stages of this dish can be made in advance, making it ideal for holiday cooking. The bread can be dried up to 2 days ahead. The sausage and vegetables can be cooked up to a day ahead (store them in an airtight container in the refrigerator). The whole dish can be fully assembled up to a day ahead, covered with foil and stored in the refrigerator. If baking from cold, add an extra 5 to 10 minutes baking time.