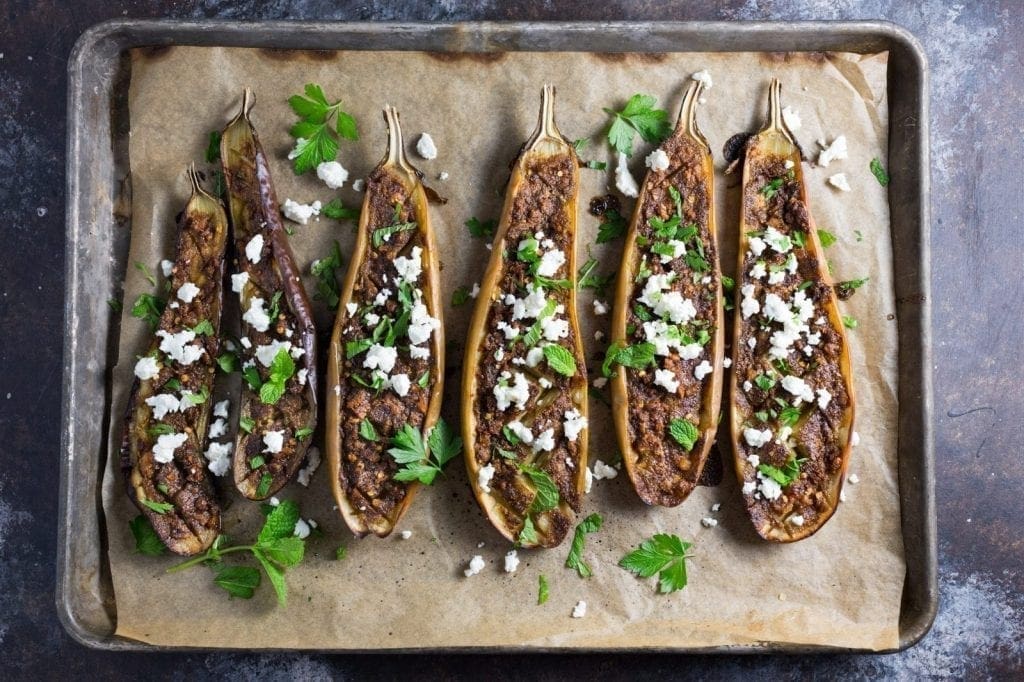 We roasted eggplant until it became soft and silky and topped it with Chermoula (a North African spice mix with garlic and preserved lemon). Sprinkled with tart feta cheese and fresh herbs. 
This dish is adapted from a recipe from Yotam Ottolenghi and Sami Tamimi's brilliant cookbook, Jerusalem. Ottolenghi is an Israeli-born British chef who, among other things, writes one of my favorite recipe columns in the Guardian. He's a master of incredibly flavorful vegetable dishes, and has a particular knack for eggplant.
Eggplant can be controversial: some love it, some hate it. If you're on the hate side, it might be because you haven't had it cooked well. Too much oil and it can be greasy, not enough and it turns rubbery. But grilled with a miso glaze, or roasted with Middle Eastern spices, it's absolutely delicious.
I've always loved cookbooks. Some of my earliest memories involve sitting on the kitchen floor while my mom cooked, lazily flipping through one of the volumes that she kept on the pantry shelves. My favorites were the Fannie Farmer Cookbook and the Joy of Cooking, both dog-eared and stained, evidence of how often they were used.
The recipes  in them were often befuddling in their 1970s eccentricities; for example, our edition of JoC included a Guide to Approximate Yield or Cuts from an 800-Pound Steer and How To Clean And Prep a Squirrel (funnily enough, neither of these would be out of place in a hipster, DIY butchery guide today).
Now, as an enthusiastic home cook, I've amassed quite a collection of cookbooks and while I read them often, I probably cook more often using other food blogs and columns.
You'll probably have most of the ingredients for this recipe in your pantry, except perhaps for preserved lemons. Probably best known for their use in Moroccan tagines, these pickled lemons add a salty, lemony kick to many North African and Middle Eastern dishes.
I've never made them myself, but this recipe from the New York Times has been on my to-do list for ages. I bought some from our favorite local gourmet shop, Beacon Pantry, but they're also available online. If you don't want to use them, substitute 3 teaspoons of finely grated lemon zest and an extra pinch of salt.
Nerd Tip:
Look for young eggplants with smooth, tight skins. I like the long Italian variety for this but the regular globe kind you find at the grocery store will work fine. Look for small to medium ones. The Japanese variety (very long and thin) don't work as well for this because there's not enough flesh.
Young eggplant don't need to be salted but if yours is older and has a lot of seeds, you might want to. Score the flesh as described in the recipe and sprinkle about 1/4 teaspoon coarse kosher salt over each cut side. Let eggplant sit upright in a colander in the sink for 30 minutes. Rinse, dry with paper towels and proceed with the rest of the recipe.
If you don't have (or don't like) preserved lemon, substitute 3 teaspoons finely grated lemon zest and an extra pinch of coarse kosher salt.
The eggplant is wonderful served with this Farro Salad for a vegetarian meal, or as a side dish with simple Baked Chicken Thighs with Lemon and Garlic.
Yotam Ottolenghi's Chermoula Roasted Eggplant
We roasted eggplant until it became soft and silky and topped it with Chermoula (a North African spice mix with garlic and preserved lemon). Sprinkled with tart feta cheese and fresh herbs.
Author:
Nerds with Knives - Adapted from Yotam Ottolenghi
Serves:
4 side dish servings
Ingredients
2 cloves garlic, minced or grated
2 teaspoons ground cumin
2 teaspoons ground coriander
1 teaspoon red chili flakes
1 teaspoon sweet paprika
½ teaspoon coarse kosher salt
1½ tablespoons preserved lemon peel, finely chopped (available in stores, about 1 lemon)
6 tablespoons extra virgin olive oil
2 medium eggplants (not the long, thin Japanese variety)
3-4 ounces feta cheese, (recommended: French or Greek)
¼ cup fresh mint leaves, roughly chopped (basil or parsley work well too)
Instructions
Preheat oven to 400 degrees.
Make the chermoula: in a small bowl mix together the garlic, cumin, coriander, chili flakes, paprika, salt, preserved lemon and olive oil.
Cut the eggplants in half lengthwise. Using a paring knife, cut diagonal slits into the flesh of each eggplant in both directions, making criss-cross cuts. Be careful not to cut through the skin. Place the eggplant halves on a baking sheet, cut side up, and spoon the chermoula over each half, spreading it so it covers all the flesh. Place in the oven on the middle rack and roast for 40 minutes, or until the eggplants are completely soft.
Remove from oven and place on a serving platter. Sprinkle with crumbled feta and mint. Drizzle with a little more olive oil, if desired. Serve the eggplants warm or at room temperature.