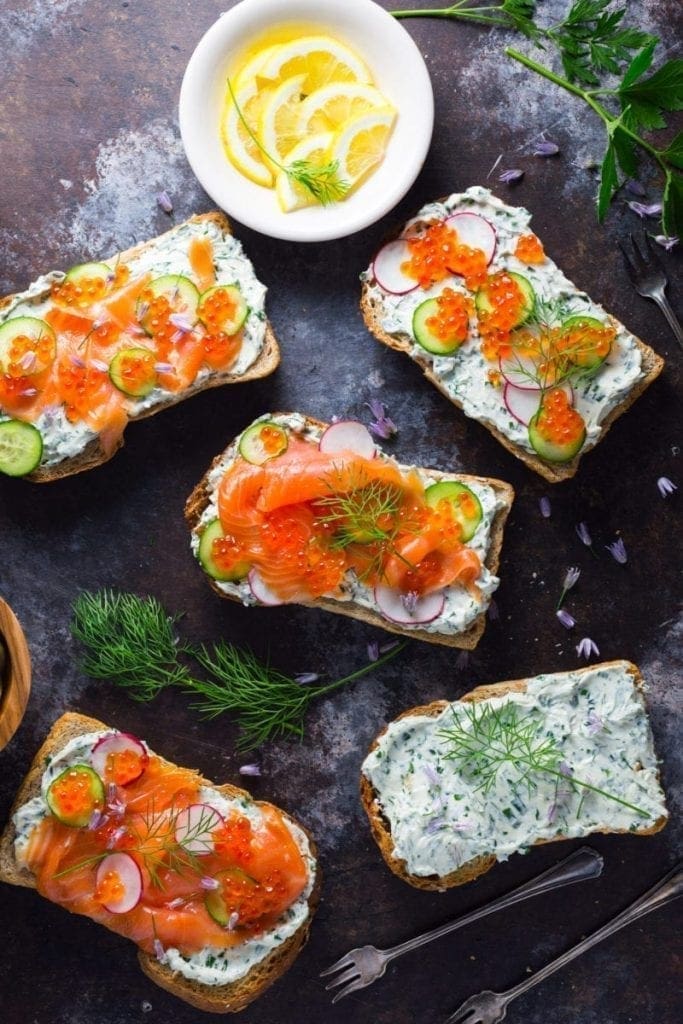 A stellar, top notch brunch doesn't need to take hours to prepare. These Tartines (toasts) with Herb Cream Cheese and Smoked Salmon and Salmon Roe take only 15 minutes!
I've mentioned before that, though my mother is a fantastic cook, both my grandmothers were truly, ridiculously bad in the kitchen. Vegetables were boiled until they begged for mercy. Meats were blasted in the oven until they were unrecognizable. Even bread somehow managed to become disks of solid brick. (And I'm not talking about homemade bread. Store-bought. And this in the heyday of Wonder bread). It was grim.
So my brother and I always breathed a sigh of relief when our parents stopped at Zabar's before the family trip to Queens (where we assumed every grandparent in America lived). Zabar's, to those who are unfamiliar, is an Upper West Side institution. Open since 1934, it's one of those places that's almost impossible to describe. It's a gourmet store but only because it sells things that are now considered "gourmet" but used to just be "food", albeit for immigrants. Smoked fish, cheese, baked goods like bagels and babka. Items that turned my German-Austrian grandparents positively verklempt.
So we would pick up some smoked salmon, a little sable. Some whitefish salad. Pickled herring that no one ever seemed to touch. Along with cream cheese and a dozen bagels (from the dearly departed H&H, of course), off we drove to the outer boroughs where we'd set everything out on my Nana's dining table and eat off of styrofoam plates. Even I, a known fish-hater and infamously grumpy child, would schmear a bagel with cheese and lay on a slice of nova.
This recipe is an easy, modern version of the classic smoked fish brunch. Tartines is really just a fancy French way of saying "toasts" or "open-face sandwiches". The cream cheese is full of flavor from the herbs, and the toppings of shaved cucumber and radishes add a crisp bite. We topped ours with smoked salmon and my favorite food of all time, salmon roe. If you can find smoked trout or even better, sable, they would be delicious. And a vegetarian version with creamy avocado would surely please vegetarians and fish-eaters alike.
There's almost no work to do here, other than mincing a few tablespoons of herbs and mixing them with cream cheese. Any combination of soft herbs would work so it's the perfect way to use what you have growing in the garden or on the windowsill. If you're buying herbs from the store there's no need to purchase them all. Chives are the main flavor so pair them with one of the others, or substitute tarragon or even cilantro.
The little pale purple petals are chive flowers which you'll find at farmers markets in spring. They have a sharp oniony bite so it's best to pull the little buds off the flower and scatter them over.
Tartines with Herb Cream Cheese and Smoked Salmon
An easy, modern version of the classic smoked fish brunch. The cream cheese is full of flavor from the herbs, and the toppings of shaved cucumber and radishes add a crisp bite.
Ingredients
For the Herb Cream Cheese:
8 ounces cream cheese, at room temperature
2½ tablespoons chives, minced
1 tablespoon fresh dill, minced
1 tablespoon fresh parsley, minced
1 tablespoon basil leaves, minced
1 tablespoon milk
Pinch of kosher salt and freshly ground black pepper
.
4 slices good multigrain pullman bread, lightly toasted
4 slices smoked salmon
.
Optional Extras:
Salmon Roe
Thinly sliced radishes
Thinly sliced Persian cucumbers
Lemon wedges
Capers or caperberries
Chive flowers
Instructions
Place the cream cheese, chives, dill, basil, parsley, milk, salt and pepper in the bowl of a stand mixer and mix until well-combined.
Spread cream cheese on top of the toasts and drape a slice of smoked salmon on top of the cream cheese. Add a few slices of radish and cucumber to each toast, along with a sprinkle of salmon roe, if using.