Our new cookbook is out now — and its focus is one of our favorite ingredients: booze! We show you how to use the cooking properties of beer, wine, bourbon and more to make your dishes pop!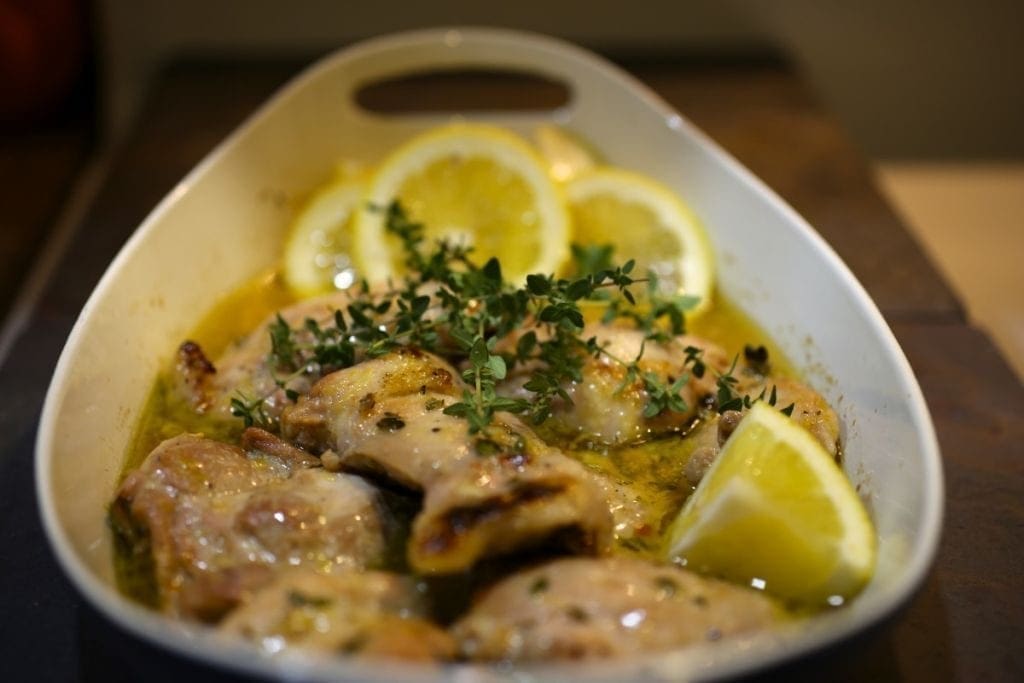 If you're looking for a quick, inexpensive weeknight dinner, boneless, skinless chicken thighs are a great option. All they need is a few minutes in a marinade, 25 minutes or so in the oven (even quicker on a grill or grill pan) and they're ready to go. Unlike chicken breasts, which dry out if you stare at them too long, thighs are extremely forgiving. They're actually hard to overcook.
I like baking them with this lemony, garlicky marinade (recipe below), but you could easily switch the flavors around. I sometimes use soy, honey and ginger. Sometimes sage, rosemary and mustard. The process is the same. Really, by the time you've made a salad and opened a bottle of wine, they're pretty much done.
If you do have a little extra time, they're perfect with Mashed Butternut Squash with Thyme and Mascarpone.
Baked Chicken Thighs with Lemon and Garlic
Ingredients
6 boneless, skinless chicken thighs (about 1½ -2 lbs)
¼ cup extra virgin olive oil
4 garlic cloves, peeled and smashed
2 teaspoons lemon zest (about ½ lemon)
3 tablespoons lemon juice (about 1 lemon)
2 teaspoons fresh thyme (or ½ teaspoon dried)
2 teaspoons maple syrup (or honey)
½ teaspoon red chili flakes (or more if you like it spicy)
¾ teaspoon course kosher salt
½ teaspoon pepper
Instructions
Preheat oven to 375 degrees.
In a small bowl, add all the ingredients except the chicken and stir together. Place chicken thighs into a ziplock bag, pour the marinade over and mix around until all the chicken is coated. Seal the bag and marinate for a few minutes (or up to a day, in the fridge).
Pour the chicken and the marinade into an oven safe dish (an 8" x 8" is perfect) and arrange so chicken is in a single layer. Bake for 25-35 minutes until chicken is cooked through (an internal temperature of 165°F).
If you want a darker top, broil on high for a minute before removing from oven.
Let the chicken rest, covered with foil, for 10 minutes or so. Serve with the pan juices and some lemon slices.
Nerd Tips:
If you want a lot of sauce, cook in a smaller dish with the pieces closer together. If you like less liquid, use a larger dish and spread them out a bit further.
If you like the flavor of garlic, but don't want to eat whole pieces, remove the crushed pieces before you bake the chicken.