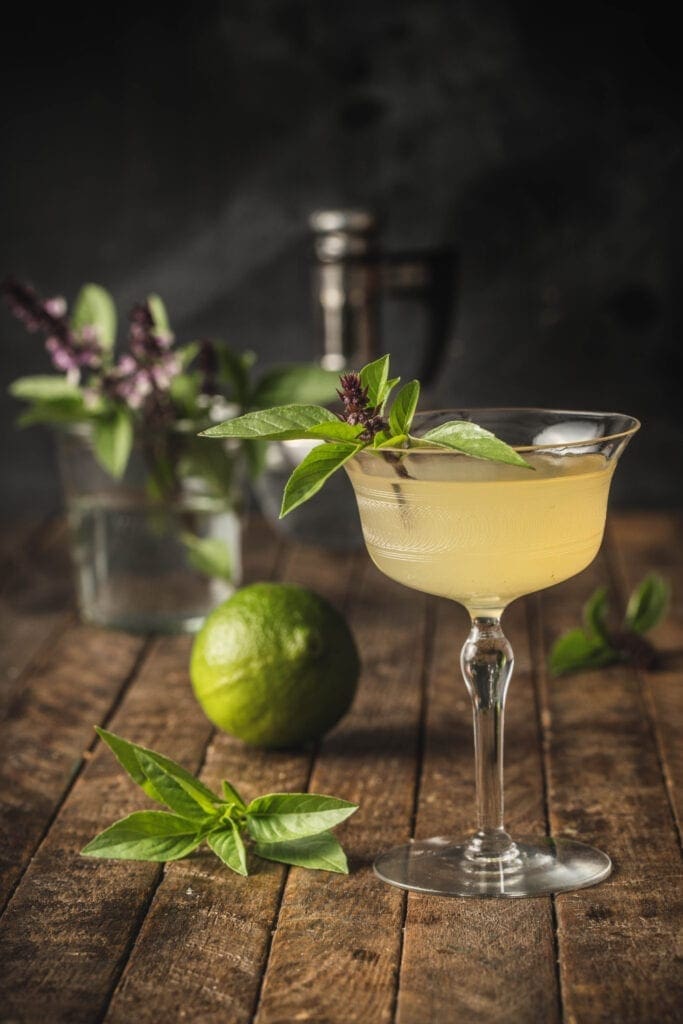 Thai basil adds spicy, anise-like notes to a gimlet. Together with lime, elderflower liqueur, and good quality gin, the Thai basil gimlet is a cool twist on an elegant classic that we sip while enjoying the color and scents of our summer herb garden.
We're very fond of our herb garden. A few years ago, we built a step stand on the back deck, and this holds enough aromatic greenery to pinch for the kitchen all summer long. Having herbs so close to hand means that it's easy to get inspiration for a food or drink recipe. Herb pots are easy to set up, don't require any digging, and can be positioned wherever you have a sunny spot. A few years ago, in our garden-less apartment in Brooklyn, we'd sneak herb pots out onto the fire escape in defiance of the landlady. When Emily lived in an industrial loft building, the roof was always the sunniest location and where herbs thrived. The pride of our raised bed garden is always late-summer tomatoes, but there's a hero of the herb garden that brings us delight from early summer onwards. To paraphrase T S Eliot, we can measure out our summer in basil leaves. 
This ultra-smooth hummus is worlds away from the packaged stuff. It's as fluffy and creamy as buttercream, with a lemony tang and a deep umami hit from our addition, miso. Topped with sweet and spicy charred scallions, this is more than a dip, it's a way of life. (Just kidding. Though it is a really good dip).  
read more