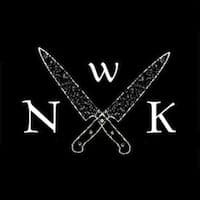 Our new cookbook is out now — and its focus is one of our favorite ingredients: booze! We show you how to use the cooking properties of beer, wine, bourbon and more to make your dishes pop!
When you want the flavors of an everything scallion-cheese bagel without all that doughy heaviness, gougères are your new best friend. They're crisp and airy baked cheese puffs, which we sprinkle with everything seasoning and fill with whipped scallion cream cheese. Perfect finger-food brunch!
Just like in Seinfeld's "The Muffin Tops" where Elaine sets out to prove that nobody really wants to eat a whole muffin, we're largely in the camp that believes that nobody really wants to eat a whole bagel. And judging by the range of "bagel-light" hybrids (flagel, crogel, and the like), we're not alone. Bagels are big. They're doughy. And even though they're inevitably filled with something delicious, you still have to bite through an inch of starch to get to the stuff inside. In our opinion, the crust flavor and the filling are the selling points of a bagel, so if we can get those flavors in something more delicate, let's do it. So we turned to the airy cheese puffs known as gougères to see if they could replace our morning favorite.
When life gives you basil, make basil pesto. It's the perfect accompaniment to salads, pasta, as a bake-in sauce for chicken and many other dishes. Since we're cheap, we substituted affordable walnuts for pricey pine nuts. 
read more