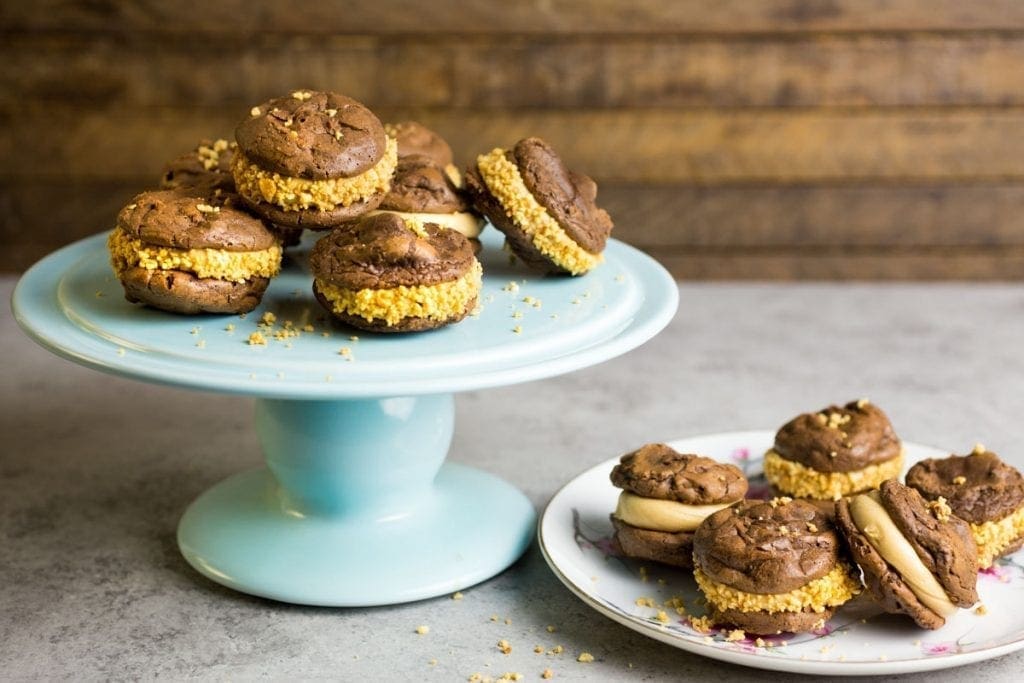 Creamy peanut butter buttercream sandwiched between two moist, fudgey brownies, rolled in crushed salted peanuts. Simply the most delicious cookies we've ever made. 
It's always gratifying when people write in and tell us that they made a recipe from the site and it turned out so well that they got compliments. But nothing warms our little nerd hearts quite like seeing someone's face when they're right there in front of us eating a thing we made and making ohmygodohmygod faces, possibly even drooling slightly. This is such a recipe. We had previously made brownie bites with vanilla mascarpone, which are quite heavenly, but then decided that adding peanut butter to a thing could only improve it, and thus this version was born. (Incidentally, we made these on January 24, which is National Peanut Butter Day. Should this be a national holiday? Well, you might very well think that, but we couldn't possibly comment.)
It was good old Thomas Stearns Eliot who said that April was the cruelest month. In my view, the jury is still out on that one, and January might be giving April a run for its money in the cruel month stakes. How can the month be so long and the days so short? How can the sheet of ice in the driveway cling on for frozen life even after a week of sunshine? Will there ever be green again? How many roads must a man walk down? I don't know the answer to any of these questions (except for the last one, which is of course 42), but I do know that it's a time of the year – and, let's be quite frank about this, a global era – when self-care is one of the best things you can do for yourself. Some days you're raring to get out there and fight the world, one injustice at a time, but other days you would rather curl up in a blanket and watch The Expanse and eat all the cookies.
Here are those cookies. It's got your chocolate – not just melted chips, sir or madam, but CHUNKS yes you heard me CHUNKS of chocolate in every bite. Each cookie has not one, but two actual cookies – double the fun all at no extra charge. And finally, the sandwich is – er – sandwiched together with the creamiest peanut butter buttercream filling you can imagine. I can't promise our arachibutyrophobic friends that this will not get stuck to the roof of your mouth, but I can promise that it is worth working through the fear just to have the experience. Yes, I'm aware that I sound a little like a street drug pusher, not that I have any experience with that sort of thing. (You might think so, I couldn't possibly comment.)
The brownie method is really quick and easy. Melt the chocolate, let it sit for a few minutes to cool, then combine with the beaten eggs, and finally, gently fold in the dry ingredients. At this stage, we recommend that you transfer the dough into a shallow dish and freeze it for a short while – this makes it much easier to roll the dough into balls, but also helps the cookies keep their shape while baking.
Because these are … ahem … quite rich, we like to make them on the small side. Using a 1 tablespoon portion scoop makes it very easy, though you could also use a regular measuring spoon. They'll look tiny on the baking tray but they'll spread and puff up a bit once they bake. Press them down a little with a wetted finger so they flatten.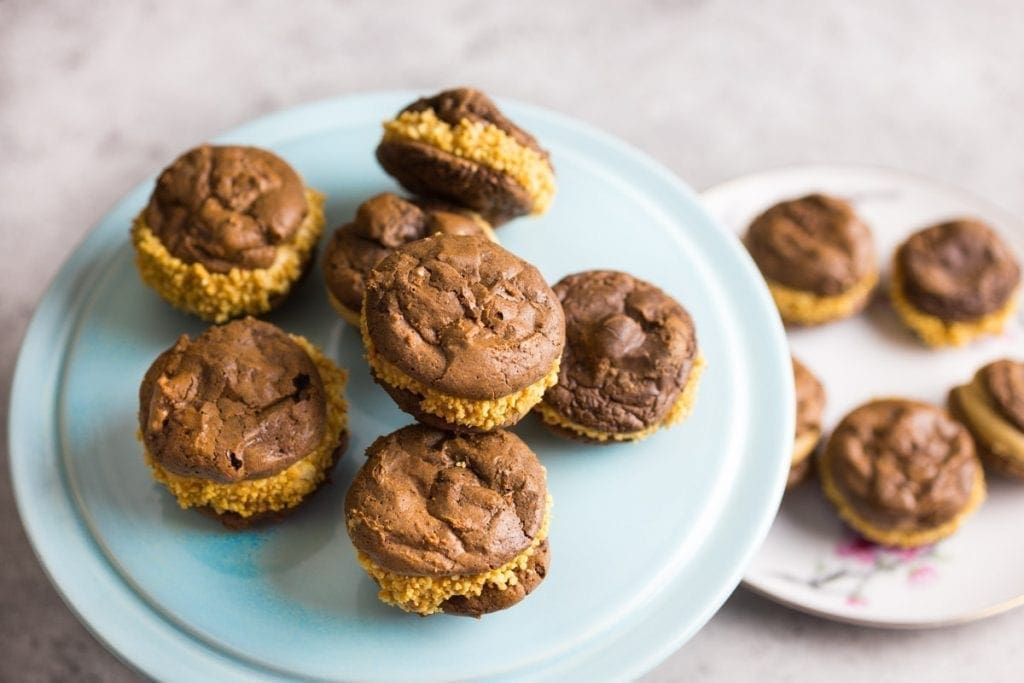 Bake for around 10-12 minutes – essentially, you want the tops to dry out and crack slightly, but don't overbake. We don't have a convection oven, so ours took a couple of minutes longer, and we definitely needed to turn the baking sheet halfway (if you're baking two sheets in the oven at once, you may also want to swap them at the same time). Your oven may not need as lengthy a bake time.
You can roll them in crushed peanuts or leave them plain.
These cookies are so good, we took them to a family event and children were absentmindedly stuffing their pockets with them for later enjoyment in private. Even adults were rendered temporarily speechless and glaze-eyed, crumbs spilling down their shirts as they munched their way through the box, like gazelles being let loose in a really fancy foliage emporium (Metaphors were never my strong suit.)
Could this be the best chocolate brownie with peanut buttercream ever made? Well … you might think that. You might very well think that. We, on the other hand, couldn't possibly comment.

Brownie Bites Filled With Peanut Butter Buttercream
Author:
Emily Clifton - Nerds with Knives
Ingredients
For the Brownies:
1 tablespoon canola oil
1 teaspoon unsalted butter
2 cups semisweet chocolate chunks or chips (plus 1 cup chunks stirred into batter)
2 large eggs
¾ cup light brown sugar
½ teaspoon of vanilla extract
½ cup all-purpose flour
¼ teaspoon baking powder
¼ teaspoon salt
For the Peanut Butter Filling:
1 cup confectioners' sugar
1 cup creamy peanut butter
5 tablespoons unsalted butter, at room temperature
1 teaspoon pure vanilla extract
¼ teaspoon coarse kosher salt
⅓ cup heavy cream
Salted peanuts, finely chopped, optional
Instructions
Preheat oven to 350°F.
Melt the oil, butter, and chocolate together in the microwave on high heat for 2½-3 minutes, stirring at 1-minute intervals (or melt the mixture in a double boiler). Let cool for 5-7 minutes.
In another bowl, whisk together eggs, brown sugar, and vanilla until well combined. Fold the melted chocolate mixture into the egg mixture.
Whisk together the remaining dry ingredients in a separate bowl. Combine the flour mixture with the chocolate mixture until just combined (Don't over-mix). Place batter into a shallow dish (like a pie-plate) and freeze for 6-8 minutes (this will keep the brownies from spreading too much).
Prepare 2 cookie sheets with Silpats or parchment paper (or spray with nonstick spray). Using a 1 tablespoon measure, scoop mixture on the cookie sheets. Press them down slightly with your fingers to an even thickness (about ¼-1/2 inch high). Bake for 8-10 minutes until the tops look dry and cracked (the insides will still be quite moist). Cool completely.
Place the confectioners' sugar, peanut butter, butter, vanilla, and salt in the bowl of an electric mixer fitted with a paddle attachment. Mix on medium-low speed until creamy, scraping down the bowl with a rubber spatula as you work. Add the cream and beat on high speed until the mixture is light and smooth.
Pipe or spoon the filling on one cookie, top with another and press down slightly. Store in an airtight container in the refrigerator. Let them come to room temperature before serving.