Our new cookbook is out now — and its focus is one of our favorite ingredients: booze! We show you how to use the cooking properties of beer, wine, bourbon and more to make your dishes pop!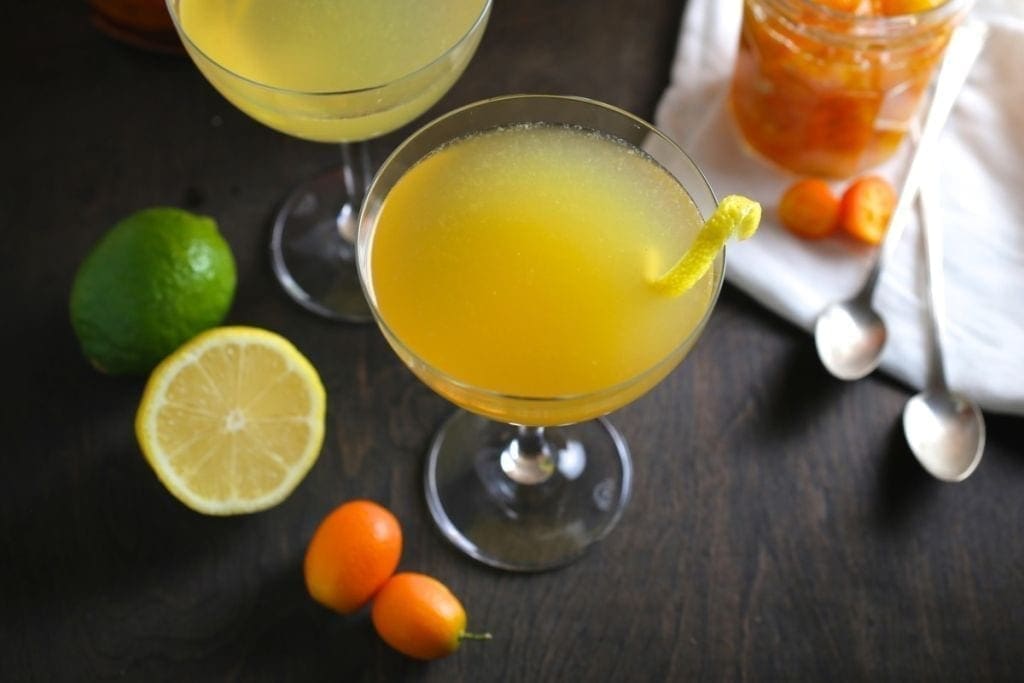 I love tart drinks but I hate commercial sour mix (too many memories of cheap margaritas and the horrors that come from imbibing them with youthful abandon). What's nice about this cocktail is that the tart flavor comes from three kinds of citrus (lemon, lime and kumquat) so it's fresh and light, not cloying and chemical-tasting.
This was Matt's favorite of the three cocktails we made using our Kumquat-Ginger Syrup.
You can balance the sweet to tart ratio to your taste by varying the amount of syrup you add to the mix. Matt likes his on the tart side, so he used 1 oz. I like mine just a touch sweeter and went with 1 1/2 oz.
Kumquat-Ginger Whisky Sour
Author:
Emily Clifton - Nerds with Knives
Ingredients
1 - 1½ oz Kumquat-Ginger syrup (add more for a sweeter drink, less for a more tart one)
1½ oz bourbon (like Bulleit or Maker's Mark)
½ oz lemon juice (1/4 lemon approx)
½ oz lime juice (1/2 lime approx)
Instructions
Place the syrup (including a few slices of candied kumquats), lemon and lime juice into a cocktail shaker and muddle a few times to extract all the flavor out of the kumquats. Fill shaker with ice and add bourbon. Shake well and strain into a cocktail glass. Garnish with a lemon peel twist.