Our new cookbook is out now — and its focus is one of our favorite ingredients: booze! We show you how to use the cooking properties of beer, wine, bourbon and more to make your dishes pop!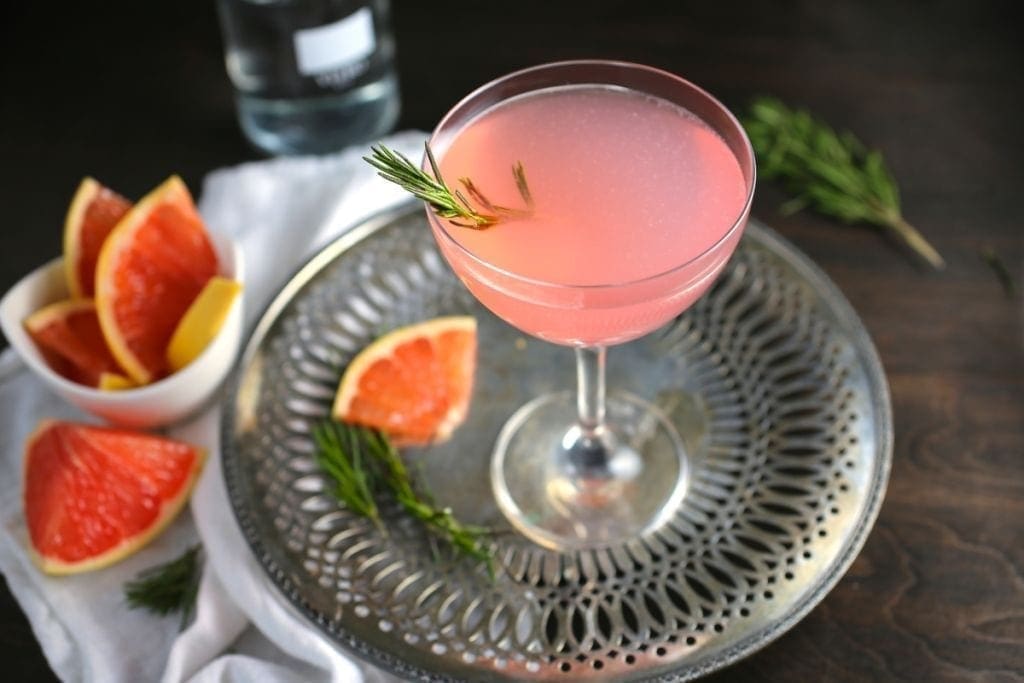 This vodka, grapefruit and rosemary cocktail is tarted up with St Germain elderflower liqueur and has a refreshing, herby taste perfect for cocktail hour.
One of my favorite words of all time is the French word for grapefruit: Pamplemousse.
Say it! Pamplemousse. It's hilarious, right? It sounds like it should be Liberace's favorite color. "Why yes, we had the whole living room done in pamplemousse and mauve. It's divine."
I also love that it's a pretty effective insult in French, meaning an annoying, pesky, person who is immature. And of course, it also means boobies. So many uses!
Of course the best use for un pamplemousse, as it is for most citrus in my opinion, is to juice that thang and mix it with some spirits. In this case vodka and elderflower liqueur.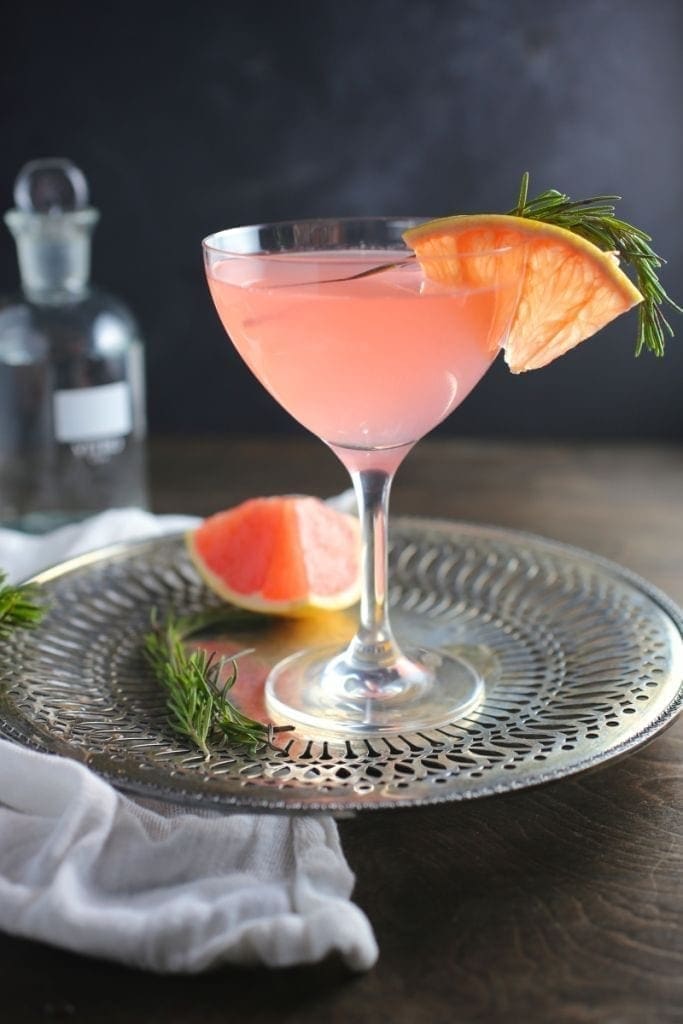 St. Germain with fresh grapefruit is one of my all-time favorite cocktail combinations. While too much of the elderflower liqueur can be cloying, a hint of the sweet floral note is just right with the slightly bitter tang of the citrus. The name "French Tart" is a play on our other cocktail, the French Blonde (or Red Head), in which we add gin and Lillet, but I wanted to do something different here.
Poking around online, I found a grapefruit and rosemary cocktail called The Romarin (served at a restaurant called Le Diplomate), which combines elderflower and grapefruit with vodka and rosemary syrup and decided I had to try it. I added a little lemon juice to tart things up a bit more and it's so good! I hope you like it as much as I do.
Rosemary syrup may sound odd but it's incredibly tasty. Matt and I have made it for years to add to cocktails or as non-alcohol option mixed with club soda. I especially love it combined with lime but now I love it with grapefruit too. Store it in a clean jar in the refrigerator and it will last for weeks. We hope you'll add our grapefruit and rosemary cocktail to your repertoire. Invite us over!
The French Tart (Grapefruit, Elderflower and Rosemary Cocktail)
Author:
Emily Clifton - Nerds with Knives
Ingredients
2 oz vodka (gin would work too)
1 oz elderflower liquor (recommended: St. Germain)
1-2 oz fresh squeezed pink grapefruit juice, strained
¼ oz fresh squeezed lemon juice
¼ oz rosemary simple syrup*
Instructions
*For the rosemary syrup, add two medium sprigs of fresh rosemary along with 1 cup sugar and 1 cup water to a small saucepan. Bring to simmer and stir until sugar dissolves. Turn off heat and allow it to steep for 30 minutes until it cools. Remove rosemary and store in an airtight jar in refrigerator.
In a mixing glass three-quarters filled with ice, combine all liquid ingredients. Stir until chilled, about 30 seconds. Strain into a chilled coupe glass. Garnish with a small slice of grapefruit or rosemary sprig.